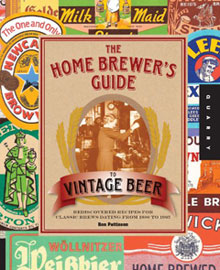 Appropriately enough, last time I looked, Amazon told me that "Home Brewer's Guide to Vintage Beer" and "Amber, Gold & Black: The History of Britain's Great Beers" are frequently bought together (along with "Water").
This has caused me to rethink which book shelf to put "Vintage Beer" on when I am done reading it. I had planned to file it with the books about brewing and brewing techniques, somewhere near "Radical Brewing." Now I'm thinking it belongs next to Martyn Cornell's books, on the shelves more generally devoted to history and culture.
My personal library fetishes aside, this is a book brewers, primarily homebrewers, but certainly some commercial brewers, interested in classic British styles must own. Although the reading is always interesting — there's something of historic or philosophical note on almost of every page &#151 the book is properly focused, on process and recipes. It is that simple and that delightful.
Oh, I just realized I have not mentioned Ron Pattinson wrote "Vintage Beer." He did. The disclaimer here is that I've known him for a while, drank beer with him in Amsterdam, and he provided generous help on my previous two books. I'm looking forward to drinking more beer with him in Grand Rapids in June. This is not an unbiased recommendation, but is one I'm pretty sure I would make anyway.
Publishers seem to have noticed the booming interest in homebrewing, because this is one of several new books of interest specifically to amateur brewers (although, again, you're going to see commercial brewers make some of the recipes in this book). Those who want to replicate a wider range of styles, and using recipes from small American breweries, are going to prefer "Craft Beer for the Homebrewer: Recipes from America's Top Brewmasters."
It's your call. You could buy both. You can use Amazon's "Look Inside" feature to preview the contents of each book, so I'll spare you those details. Instead, a thought from something Pattinson posted more than six years ago about "an epiphany while in Franconia." It does not work perfectly to replace the word "beer" with the word "book" in every instance, but it's close enough. He wrote:
"Honest beer is what I want. Beer that can look me straight in the eye and not flinch. Beer with heart. Beer that's like an old friend. Beer you can sit and drink by the pint in a pub with your mates."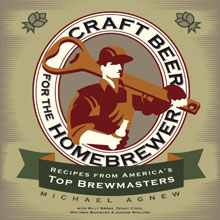 There's no way I am going to get around to writing about all the new brewing related books available. Nor, quite honestly, am I inclined to read another book intended to take a new brewer through the process from the outset. (At least until Randy Mosher's "Mastering Home Brew: The Complete Guide to Brewing Delicious Beer" is finally available.) But, just so you know, these look more interesting than the rest:
– Homebrew Beyond the Basics: All-Grain Brewing and Other Next Steps
– The Homebrewer's Journal: From the First Boil to the First Taste, Your Essential Companion to Brewing Better Beer
– Beer Brewing for Everyone