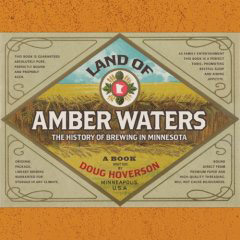 In the preface to Land of Amber Waters: The History of Brewing in Minnesota
author Doug Hoverson writes how he came to decide that there might be something he could add to the literature on Minnesota's breweries:
"Without making this sound like a research grant proposal, I think it is easy to demonstrate that the history of the brewing industry is important in understanding Minnesota's history and culture, and that Minnesota's brewing industry is important to the wider history of the brewing industry in general."
Mission accomplished.
I could likely dash off a quick 2,000 words about this book, but that's more than would interest you.
Hoverson teaches social studies and coaches the debate team at Saint Thomas Academy in Mendota Heights, Minn. He's a homebrewer and associate editor of American Breweriana. It's obvious early on, like when he thanks his family for "the times we drove out of our way to look at a hole in the ground," this was a labor of love. He writes he spent hundreds (although I suspect it may really be thousands) of hours in local libraries.
The result is information we've never seen before. The dude has details on all 290 breweries that ever operated in Minnesota. All but 40 opened before Prohibition and all but 20 no longer exist. That makes for challenging research.
The University of Minnesota Press certainly does the book justice in 340 pages, each 10 inches by 10 inches, printed on heavy stock and packed with illustrations.
But what makes Land of Amber Waters worth its $39.95 price tag is the perspective Hoverson adds on top of his meticulous research. For instance, he introduces the third chapter with a 1902 quote taken from the Pine City Pioneer:
"Mr. Buselmeier makes a purer beer than any that is shipped in here and we are glad to know that the drinking public appreciate that fact. Every dollar that Mr. Buselmeier gets is expended in Pine City and those who patronize him are benefiting the village. The same can be said of every other home industry. … So when in need of a glass of beer, a glass of pop, a good cigar, a sack of flour, a newspaper, or in fact anything that is manufactured at home and will benefit home trade be sure and call for it. This is the way to build up a town."
Maybe that's a little rah-rah, but this chapter about the "glory days of the small-town brewer" offers example after example of the role breweries played in communities and the role communities played in beer in the latter half of the nineteenth century.
Small towns have changed a bit since then. Small breweries literally disappeared then came back. We're not returning to 1902, but as well as doing a terrific job of chronicling Minnesota's beer history Land of Amber Waters tells us more than a little bit about beer in America today.