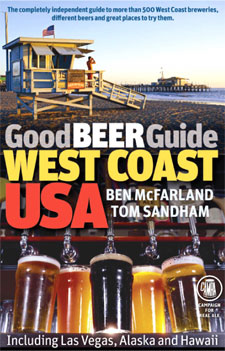 Travel guides are worthless without trust.
So, you might be thinking, why should we trust a couple of British blokes who showed up for a holiday or two on America's West Coast and then presumed to write about our beer?
Oh, sure they seem clever, for instance describing American IPAs as "hoppier than a one-legged man in an arse-kicking competition." And the publisher Campaign for Real Ale (CAMRA) has outdone itself with a colorful, easy-to-find-what-you-want presentation plus an embarrassment of color photos.
But ultimately here is why you can trust Ben McFarland and Tom Sandham, authors of "Good Beer Guide West Coast USA."
When I managed a newspaper copy desk the rule repeated every day was, "Readers trust everything they see in the paper until you write something they know about." So pick up a copy of the book. Turn to a section you know about. Do they write about the best places? Do they leave any out? Are they right about the beers? Do they give you a reason to visit? Yes, no, yes and yes.
Feel free to be skeptical, but the proof is there in black and white. They dropped by the Craft Brewers Festival in San Diego last month to sign books and I sat down to talk with them about how they accomplished this. To be honest, my notes ended up full of "inside baseball" (or cricket) talk — and we weren't even drinking. You'll likely find their Q&A at the CAMRA site more amusing.
But some basics. They researched the books in two four-week stretches. The first included Las Vegas and Southern California (then back to Vegas). "We laid down for a week (afterwards)," McFarland said. "I got shingles . . . We were in pieces."
They came back anyway, flying into Seattle and this time destroying their livers with the beers of the Northwest. They leaned on Tom Dalldorf (of Celebrator Beer News) for Hawaii and Dr. Fermento (James Roberts of the Anchorage Press) for Alaska. Obviously they also received a lot of help on "leads" about where to visit. Quite often they'd be in one pub or brewery and the principals there would ask, "Have you been to …?" and they were off again.
The resulting book doesn't exhibit the sense of familiarity of one like Jay Shevek's The Beer Guppy's Guide to Southern California, but the authors are no less enthusiastic about what comes first — beer. In fact, surprisingly so, writing a love letter to American small-batch brewing that nicely carries on a tradition started by the late Michael Jackson.
And at times you get a glimpse of what the book might have read like had they been able to spend two years instead of two months wandering in and out of breweries and pubs. Writing about Diamond Knot Brewery in Muketilo, Wash., they begin:
"We must have been in here for about 20 minutes before 'Johnny Vegas', a Port Townsend ferryman, offered us a place to stay the night. Being British we naturally regarded the gesture with a level of cynicism and, fearing we'd be somehow chopped up and a feature in his wife's stew, said yes and promptly disappeared. The fact is, he was simply a generous and friendly local and a perfect example of what this bar offers."
Despite their youth — they are in their early 30s, giving them a fighting chance of surviving their research — both are accomplished journalists. Sandham had edited CLASS, a leading drinks magazine, for five years. McFarland became the youngest ever recipient of the British guild of Beer Writers' beer Writer of the Year Award in 2004. He won it again in 2006.
And because of their youth they offer a look at American beer through fresh eyes and taste American beer with fresh tongues.