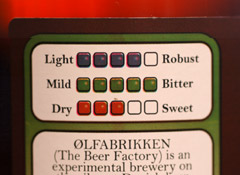 This is just a great idea from Ølfabrikken, or maybe from Shelton Brothers, which imports the Danish beer.
I want to see similar information on the label of every beer in the store.
What else do you need to know?
OK, if 100 gram IPA is any good (yes) and if it is worth $8.99 (in New Mexico; well that's $4 more than Stone Ruination). And maybe they need a fourth scale – either ranging from "beginner" to "experienced" (my idea of bitter might be different than some) or "bland" to "intense." In either case all the blocks would be filled in for 100 gram.
But wouldn't you love to see a similar chart &#151 like brewing competitors would every come up with a standard &#151 on the back of very bottle?
The label also provides a little information about the brewery, and the fact its beers are unpasteurized, unfiltered and naturally carbonated.
And about the beer itself: "Our 100 Gram IPA is an Imperial IPA, hopped continuously throughout the entire boil. Hops additions are made every three minutes, and are increased by 100 grams with each addition. The result is a flavorful bitter ale, with intense floral aromas from the huge quantities of hops added near the end of the boil."
While I love the informative label and that beer drinkers in Denmark can enjoy locally brewed Double IPAs I'm still trying to figure out why it is necessary to ship the hops back to the United States.