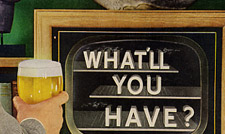 The beer vs. wine debate goes to the university classroom. with Andrew Waterhouse, chair of the department of viticulture and enology at UC Davis, and Charles Bamforth, chair of the department of food science and technology, duking it out.
Waterhouse:
"Putting a bottle of wine in your shopping cart immediately makes you look smarter and healthier. It's all about image. Who do you want to be seen with?"
Bamforth:
"Most people who drink beer are young men who eat sausages and watch ball games. Think of how healthy they would be if they just drank beer."
Both the beer and wine schools at the California school have internationally reputations. Bamforth is the first Anheuser-Busch endowed professor of brewing science.
Senior art history major Laura Stotesber told the campus newspaper: "It was enjoyable, intelligent, witty and there was a well-balanced argument on both sides. I thought it was great to see these two industries come together in fun."