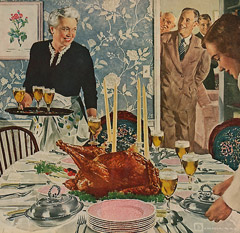 We've got turkey brining for tomorrow, using one of many recipes The Homebrew Chef Sean Paxton has generously posted at his web site.
If you've been procrastinating and are still looking for ideas about what to cook for Thanksgiving then you'll find some different ones here &#151 although in some cases you needed to start preparations several days ago. You do have time to consider deep frying a turkey. Sean has instructions or here's the recipe we use.
So Thanksgiving is looking beery. Now if the Brewers Association, which has done a fine job the last three years of getting newspapers and magazines to notice beer at the holiday table could turn its attention to Black Friday.
Why aren't there flyers in my Thursday paper advertising a case of Sierra Celebration on sale at 6 a.m. for $6.99 for the first 50 customers? Shouldn't somebody have a DOORBUSTER! featuring Samuel Adams Holiday Sampler ($2.99, at least 10 per store)? Hey, Borders, please e-mail some coupons for beer books.
For now I'd smile if I found a local event like Black Friday Fest in Durham, N.C. (Courtesy of The Beer Mapping Project.)
Bell's Java Stout, Duck-Rabbit Baltic Porter . . . hmmm. They need to start before 3 p.m.
Or if you are one of The Lost Abbey Patron Saints you can pick up your allotment from the release of three seasonal beers that otherwise go on sale at 11 a.m. Saturday. (When then the brewery is going to look a little like Best Buy at 5 a.m. Friday.)
Or you could save your money for Saturday, when the auction for a 2004 bottle of Three Floyds Dark Lord Imperial Stout closes. Current bid is $127.50.
Would you brave the 4 a.m. Friday crowd at Wal-Mart to get a deal on Dark Lord? (I'm sorta making the time up; the closest Wal-Mart to us is open 24 hours.)