MONDAY BEER & WINE LINKS, 11.20.17
A few things I've read in the last week or so that you might be interested in.
– Josh Noel suggests sugary pastry stouts are a sign craft beer is forgetting what beer tastes like.
– And Michael Kiser at Good Beer Hunting concurs, adding some advice: "Offer a pastry stout if you feel you lmust – especially if you can make a superb one. But use it as a gateway into something edifying, educational, and evolutionary for your customer."

– Moving on to NEIPA, Garrett Oliver not only calls it a fad, but provides a soundbite that is going to be repeated many times over: "It is the first beer style based around Instagram culture and based around social media."
– A tweet sort of ties it all together:
Sounds like half of the NEIPA/Milkshake IPA beers – infantilisation of beer

— Sam Tait (@SamTait) November 17, 2017
– And although this about peanut butter beers from CraftBeer.com, a Brewers Association publication, may appear to be a tangent I find it related.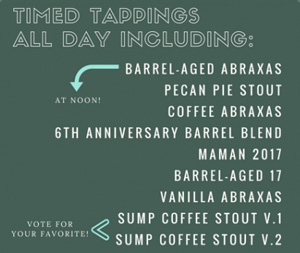 It's Abraxas season here in St. Louis. I wouldn't call it a pastry beer (and I suspect neither Noel nor Kiser would either), but it is flavored with cacao nibs, vanilla beans, and cinnamon sticks. And Perennial Artisan Ales does conjure up beers intended to remind drinkers of "non-beer" flavors. So I dropped Perennial owner/brewer Phil Wymore an email asking if he cared to comment. He replied that he read the first article Thursday morning just before making some Pecan Pie Stout for the brewery's anniversary party (which was Saturday). He's made the beer since 2014, so has been a leader rather than a follower.
He wrote: "I like Josh, and he is definitely entitled to his opinion, I just don't happen to share it this time. We've never been purists (obviously) with our approach to styles, but we certainly respect those who are. We always strive to be innovative and relevant with our beer production. The market ultimately speaks, and sometimes you have to give the people what they want. That being said, we take pride in doing it our way — which is often difficult, but tends to yield results we're happy with."
I am a fan of regular beer (and for The Session #49 found plenty of allies), but I also wrote a book suggesting cow parsnip and lamb's quarters are suitable ingredients for beer. Our understanding of what beer can be continues to expand.
IN OTHER BEER MATTERS
– Brewing water "energized" with gemstones? A question that needs to be asked out loud.
– About the growing interest in botanical beers. I'm pretty sure there's a book about that, and it includes a recipe for beer made with pawpaw, the largest edible fruit native to North America.
– Free beer for life? There are some rules, but for $1,000 this looks like a deal from Saint Arnold Brewing in Houston. Fifteen years ago customers contributed $7,000 toward the $12,000 it took to install a reverse osmosis system for the brewery. "We solicited the money," founder Brock Wagner said at the time, "but I can't really say why they did it other than I've come to realize I may own the stock, but it's not my brewery. It belongs to everybody who drinks Saint Arnold beer."
– Rural Beer. There's a good title for a book. You are welcome. Given upstate New York's history of growing both barley and hops — not do-able everywhere — open "farm breweries" seems like a natural fit in the state's Finger Lakes region. "It's hard to avoid beer culture now. It's everywhere and it can be anything."
SENSORY
– What time of the day is your nose best able to do its job? This study indicates it is in the hours before you go to sleep. Plan you drinking accordingly.
– Not really a surprise that a study found men and women don't actually have different taste in wine. Although there are genetic differences in the way that men and women perceive some odor compounds, I suspect a study about "taste in beer" would yield a similar result.
FOR THOSE WHO WRITE ABOUT DRINKS
– Here's a lead for you: "Wine writing is in its death throes, and there's not much that can be done about it." And Jamie Goode concludes it's not just wine, but that "but wine writing is not alone in the media world in having to adapt to a novel and still-changing landscape."
FROM TWITTER
#tbt: the original control board for our 50bbl Comstock Brewery. pic.twitter.com/Wb1CbXHMmX

— Bell's Brewery (@BellsBrewery) November 16, 2017