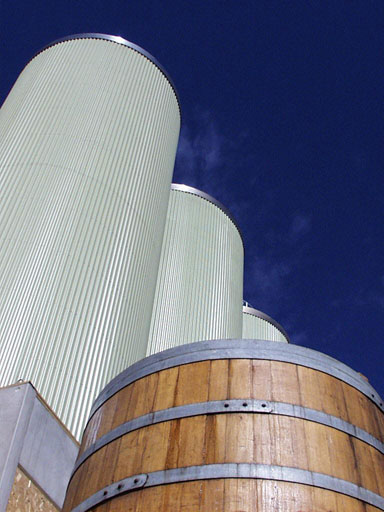 All About Beer posted a story yesterday about foeders (or foudres should you prefer the French spelling to the Dutch) and the Foeder for Thought Festival today in Florida.
I point to this primarily, to be honest, so I have an excuse to use this photo. I think I have posted it here before, but I like it. It was taken at New Belgium Brewing in June 2000. The brewery had recently taken delivery of its first four 60-barrel foeders (it now has 64, many of them larger). The tanks were outside because they were being swelled (filled with water) to make them beertight before they were filled.
This tank didn't take to swelling all that well, and my back got soaked while I captured this image. Not long before New Belgium had put its first 2,000 hectoliter tanks (about 1,700 barrels, or twice what the average brewpub produces in a year) into place. They are in the background.
The AAB story features Foeder Crafters of America prominently. They are local*, and I wrote about them for Beer Advocate magazine last July. Their business has really taken off since Nathan Zeender of Right Proper Brewing and I visited them last April. That's Nathan on the right in the photo below and Matt Walters of Foeder Crafters on the left.
Nathan and Phil Wymore from Perennial Ales* will be talking about foeders in one of the Salons at SAVOR in June. Here's the whole skinny about Foeder Beer: A Search for Delicious, "Perennial Artisan Ales of St. Louis and Right Proper Brewing Co. of Washington, DC both use large oak foeders as a conduit for the expression of their house mixed-fermentation cultures. The goal is characterful beers with layers of complexity and charm. For the vast majority of the human endeavor of fermentation, wood vessels were the medium—these current-day foeder beers are really more revivalist than innovative. Taste the results of their experimentation with four unique beers."
You can catch that and still have time for Indigenous American Beers – Past & Present at 9:30. Again, the description, "What did the first beers brewed in America taste like? Join Sam Calagione of Dogfish Head Craft Brewery and 'Brewing Local' author Stan Hieronymus as they provide insight into the beers Native Americans had been making for hundreds of years before Columbus arrived. Sample beers recreated from ancient recipes—once you try all three, Stan and Sam are sure you will agree that militant beer laws like the 'Reinheitsgebot' and pants are equally cumbersome and unnecessary. They invite you to wear a loincloth or one of those sweet brewer's kilts to this seminar in a show of solidarity."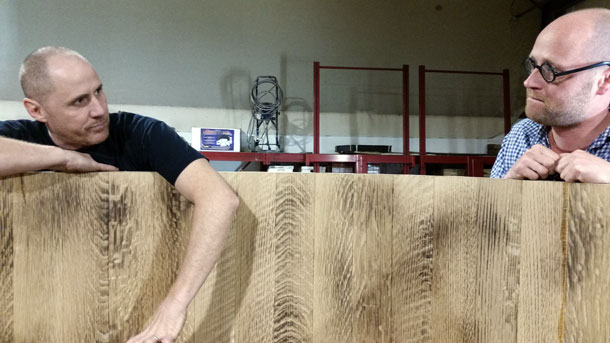 * Perennial Ales is also local, meaning St. Louis, Missouri. I point this out because yesterday I was talking to a college student who noticed my cell has a New Mexico area code. I explained I live in St. Louis and he asked where St. Louis is located.