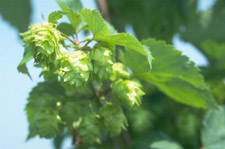 The OregonLive headline tells you pretty much all you need to know: Glut of hops unlikely to lower beer prices. This follows a story in Washngton's Tri-City Herald earlier in the month: Abundant hops harvest is bittersweet.
That's agriculture or you. As I wrote in 2007 there's nothing new about wild swings in the price of hops. But now I have a new source (Hop Culture in California from 1900) to quote:
The price of hops on the Pacific Coast has ranged all the way from 5 cents to $1.10 per pound, which amply illustrates the extreme variability and uncertainty on the business side of hop culture.

At 12 cents or less per pound, hop production involves a loss. At 15 to 20 cents, the grower can make a fair living and may get something ahead. it is the wide fluctuations in price that have caused so many failures in the business of hop culture. The price of $1.10 per pound in 1882 proved a calamity to the legitimate grower. It led many to embrace in the business with dreams of sudden wealth. Disaster to nearly all was the natural result.
Back to the present in Washington:
Brenton Roy, president of Oasis Farms northeast of Prosser, said this year's crop was "100 percent contract," which meant any surplus hops would be left in the field. Roy estimated he left about 4 percent of his crop on the vine.

"For us it's not going to have a large impact, but I'm sure for some growers it will," he said.

Roy expects this year's overabundant crop to enlarge the hops surplus, which he said will lead to a decrease in contracts.

Roy said he thinks Washington's hops acreage will have to decrease by about 5,000 acres for supply and demand to balance.
And in Oregon:
"The only time I've heard of hops left hanging was back when powdery mildew hit so hard that some yards weren't worth picking," says John Annen of Annen Brothers Farms and chairman of the Oregon Hop Commission. "But never industrywide — these are perfectly good hops unpicked because there's no warehouse space and no spot market for uncontracted hops."
Barley prices, for malt, also have come off their highs, but declining costs prices for two key beer ingredients won't translate into prices on the shelves. "Pubs and breweries face all sorts of increased costs, from stainless steel brewing vessels to employee health care, freight and fuel costs, and hops are perhaps the smallest part," John Foyston writes at OregonLive. "Plus, most brewers contracted for their hops for years ahead during the shortage, and those contract prices will be higher than 2009 spot-market prices."
For a bit of perspective, the $1.10 peak in hops prices in 1882 would amount to a little over $24 today. In 1900, pickers made 60 cents to $1.10 pounds of green hops, the average being about 75 cents ($19 today). A hop drier earned $2.50 to $5 (almost $128) per day and board. Field foremen were paid $1.50 to $2 per day and board, so hop drying was a premium skill.