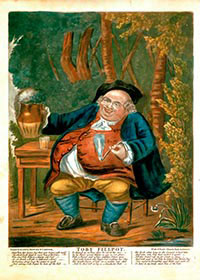 A weekend of beer and history in Colonial Williamsburg, with a speaker lineup that includes Randy Mosher, Martyn Cornell, Ron Pattinson, Mitch Steele, Tom Kehoe and other people more interesting than you realize (plus me, so there's the disclaimer).
You need to need more? "Ales through the Ages offers a journey through the history of beer with some of the world's top beer scholars. We will explore ancient ales and indigenous beers of the past, examine the origins and consequences of industrial brewing, discover the ingredients brewers have used through time, and share a toast to brewers past."
I'm not sure where else on earth you'll be able to see Martyn Cornell, Mitch Steele, and Ron Pattinson give presentations on a Sunday morning. (Here's the whole program.)
So pardon the plug for an event I'm speaking at. Even though it's not until March 18-20 I thought you'd want to know about it. Registration is already open.