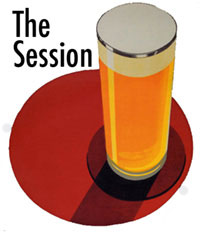 Jay Brooks has created a logo for The Session. He's even given us multiple options – both to the size you use and also if you want to include the words "Beer Blogging Friday."
I haven't decided which I prefer, so don't be surprised if you come back and words magically appear in the red circle.
You can grab what you want here.
We all owe Jay a beer (each). Jay, I'll buy you one at Stubbs in Austin, OK?