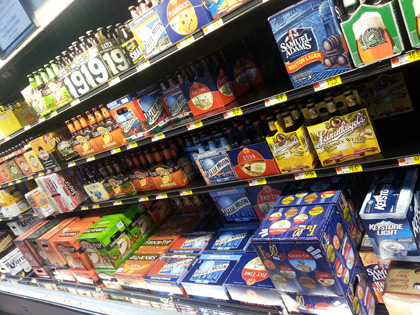 Standing in the beer aisle at Walmart last week I tried to imagine a time when I might see a bottle of Orval or even Goose Island Matilda sitting in the cooler. Not there yet.
I went to Walmart out of curiosity. First, there were a series of stories last month about Walmart getting serious about selling more alcoholic beverages, obviously including beer.
… we do learn that Walmart hosted 500 representatives from the alcohol industry at its Sam's Club auditorium in Arkansas for a little adult beverage get-together last September. At the Summit, the company's executives proved to alcohol buyers how serious they were about increasing Walmart's share in the beer market — and that means doubling its adult beverage sales by 2016.
Then the story resurfaced last week with with a Bloomberg report that Walmart "is so committed to becoming America's biggest beer retailer that it has been selling Budweiser, Coors and other brews almost at cost in at least some stores." Alan McLeod had a bit to say, and then even more. He also pointed to a related Beer Advocate discussion.
I found myself wondering if where a beer is sold matters a hill of beans. Despite generally overthinking "beer from a place" this is something I had not really considered. Where's it is consumed, in situ, sure. But not where it is bought. That's how I ended up at Walmart. I didn't come to any conclusions, but now I feel up to date. I already stuck a note on the corkboard I'm looking at as I type, reminding myself to revisit by the first week of December to see if anything has changed.
It was more interesting because I also stopped at my local grocery store, Schnucks, on the way home and took more notes. Schnucks has an excellent beer selection, most of it kept in coolers. While the Walmart selection isn't as broad as at a gas station in Fulton, Missouri, I ducked into recently, Schnucks has plenty of Firestone Walker beers, Left Hand, Ommegang, Green Flash, and so on. Plus a fine selection from more than a half dozen local breweries.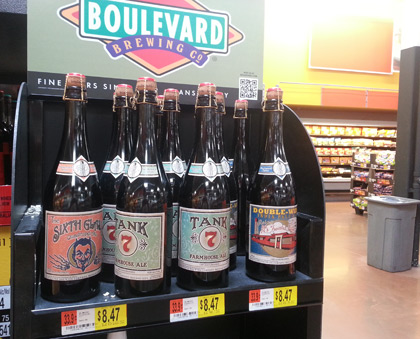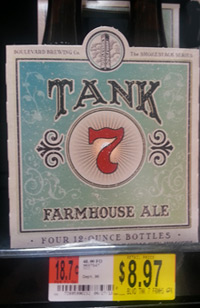 The price at Walmart includes the cost per ounce, making comparisons easy. At Walmart, at least now, this is mostly a matter of comparing packs of 6, 12, 18, 24 and 30. But — for those who don't have the Beer Cost Calculator app on their phone that a 750ml bottle of Tank 7 from Boulevard costs 33.9 cents per ounce while a 4-pack of Tank 7 costs just 18.7 cents per ounce could be a revelation. The 750 of Tank 7 costs $8.47 at Walmart and $8.99 at Schnucks (the 4-packs $8.97 and $10.99, with a note at Schnucks that was .70 off the regular price — I usually pay $10.99 at my local beer store).
Will Walmart soon sell more 4-packs, 750ml bottles, maybe 500ml (Urban Chestnut Brewing packages its beer in 500s, in 4-packs and 8-packs)? That's the implication of these various stories.
Some other observations: a 12-pack of Kräftig Light cans was on sale for $8.97 at Walmart and $9.99 at Schnucks, compared to $10.97 for Bud Light Lime-A-Rita. Kräftig was founded by Billy Busch — yes, one of those heirs — who is promising he will eventually build a very larger brewery in St. Louis. Meanwhile the beer is brewed under contract in Wisconsin. It's an all-malt beer that does very well is various tastings.
Both Coors Light and Miller Lite 30-packs sell for $17.35 at Walmart at $17.97 at Schnucks. Bud Light Select and Budweiser are both $18.37/$18.35 (Walmart is always listed first).
Samuel Adams Boston Lager (12-pack) is $12.88 at Walmart, $13.99 at Schnucks, while the New Belgium Folly Pack is $12.47/$14.99. Stella Artois is $12.47/$15.99, and Heineken $12.47/$11.99. Schlafly Pale Ale 12-packs are $11.47/$11.99, and the Sample Packs $13.47/$11.99.