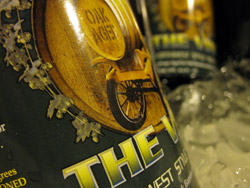 Three days at the Great American Beer Festival last week seemed to last three weeks. So much going on. I learned a ton, but mostly stuff that will influence future posts and work that appears in good old-fashioned print.
But then you don't need me to be telling how wonderful the Pints for Prostates Rare Beer Tasting turned out or how long the lines were in front of New Glarus Brewing. There's plenty to read on the Internet.
That's quite different than in 1993, when Daria and I reported on the festival for All About Beer magazine. Our story appeared a couple of months after the event. Beer news traveled at a different pace. A few pieces in regional "brewspapers" (also well after GABF) and an occasional mention in online bulletin boards and Internet mailing lists were pretty much it. Now you can read dozens of blog posts every day &#151 for instance, English writer Melissa Cole waxing romantic about a beer from a brewery in Tampa, Florida, that has been open less than a year. (Cigar City Brewing.)
However there are a few things you might not otherwise read or that I wanted to make sure you notice:
– My breweries won the GABF Fantasy Draught. I spent part of the awards ceremony talking with George Wendt ("Norm Peterson") about his upcoming book. We went for a little walk to have a few beers. When a winner would be announced to large cheers he asked, "Are people fans of particular breweries?" Looking back over the list of breweries I picked I realized these are all ones I have a certain affection for, contest aside. Thanks again to Jonathan Surratt for the thankless job of running it.
I bumped into — the festival has gotten so big you can go three days not seeing people you are looking for — Pizza Port Carlsbad brewmaster Jeff Bagby right after the awards ceremony. When I saw him Thursday I kidded him four medals is all I expected from a second round draft choice. He was still quite a distance away on Saturday when he yelled at me, "Is this enough for you, Stan?" Seven medals, four golds. Being good at drafting (or draughting) does not compare to being good at brewing.
– Will Kemper. Two golds, two silvers and Small Brewpub of the Year. Only open a little over a year but not exactly a secret (his brewery went in our draught). If you've never heard the name click on the link. An early superstar? Star? Maybe not a conversation to start. The music analogy for me would be Lloyd Maines or Mark Knopfler.
– I would have bet against it, but Firestone Walker Union Jack IPA did manage to go back to back, beating out 133 other entries. As impressive, Russian River Brewing's Blind Pig IPA medaled for the third straight year. So in each of the last two years Union Jack and Blind Pig have claimed two of the possible three medals. Meaning 132 breweries have one medal to compete for. Tough odds.
– You always hear conjecture that some breweries make batches just for judging. I find that hard to believe.
But there's no doubt that the beer Boulevard Brewing in Kansas City won gold with this year is just like the ones consumers find on the shelf (in season). Brewmaster Steven Pauwels said that when the brewery decided to enter Zon in the Belgian white/wit category they discovered that they didn't have any of the seasonal beer in stock. So they went out a store and bought the beer they'd enter, and win with. That's impressive.