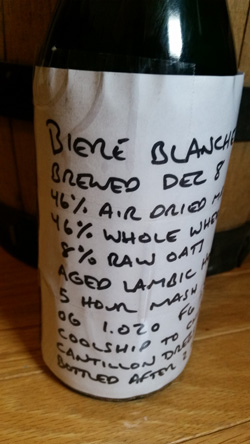 The most interesting beer (not just in a freak of nature way) I've tasted so far this year was Biere Blanche du Louvain from Zebulon Artisan Ales outside of Asheville, N.C. It wasn't from a full-size batch nor was it packaged, so not a commercial release. But Mike Karnowski sent a couple of bottles, because he used Brewing With Wheat as a starting point for his recipe (which was about process as much as ingredients). I took some to share at lunch during a homebrew competition, and confirmed I'm not the only one amazed how much flavor a beer with 2% alcohol by volume can have. There's more to say about it, but that's another time.
Friday Karnowski rolls out what he describes as Zebulon's most ambitious release yet, which given what he's made in the first 15 months the brewery has been open and those bottles of Biere Blance du Louvain is setting the bar pretty high. The four pack is called "RELICS! Lost and Forgotten Beer Styles" and is dedicated to the musical "relics" that Ron Pattinson saw play live in the 1970s (Ramones, The Clash, Sex Pistols, The Damned).
Ron wrote about four styles included in a booklet that comes with each of the 400 hand-numbered box sets. He'll be at the brewery in Weaverville on Sunday to talk about, you guessed it, lost and forgotten beer styles. It may be sold out by the time you read this (and linking to Facebook can be a challenge, but here goes). The four packs will be available at the brewery Friday and Saturday. The beers are:
October Beer: In the 1700s, when the new malt and hop crop would come out in October brewers would make their finest beer known as October Beer. It was a huge beer aged in barrels and was transformed by Brettanomyces. This batch was brewed with 100% floor malted Maris Otter malt and East Kent Goldings hops. Karnowski suggests it could have been the original triple IPA, because the calculated IBU is 188. 1.115 OG/12.1% ABV
Arctic Ale: Brewed for Arctic expeditions in the 1800s, extra strong to prevent freezing. "Deep mahogany brown with a rich, chewy mouthfeel. Amazing aging potential." Brewed with floor malted Maris Otter malt, dark sugar syrup and East Kent Goldings hops. 1.114 OG/11.8% ABV
Kotbusser: A lost style from the town of Kotbuss in Germany. Similar to a Berliner Weisse but brewed with oats and local honey. "Sour, refreshing, complex." 1.040 OG/4% ABV
Grodziskie: A defunct style revived through the efforts of Polish homebrewers. Brewed with 100% oak smoked wheat malt and Polish Junga hops. "Drinks like a light, hoppy pilsner but has the aroma of a campfire." 1.036 OG/3.6% ABV
Ron talks a bit in Brewing Local about why projects like this are so cool.
"Why do I want to taste extinct styles? On one level it's purely from curiosity: how did it taste, what did it look like, how did it drink? All the things you can only really learn about a beer by having one in a glass in front of you. That simple need to know could be satisfied by a pint or two," he says.
"But then there's the cultural aspect. Beer styles—and especially those associated with a specific place—have a wider significance than just being a drink. Because every beer style is a unique cultural item. When one disappears, the culture it came from is diminished."