It turns out Ava, Illinois, population 645 in 2013, really isn't big enough for two breweries. Too bad, because when a town has one brewery per 322 and a half residents that pretty well ends the breweries per population discussion (Asheville would need 270 to keep up, Portland, Oregon, 1,890).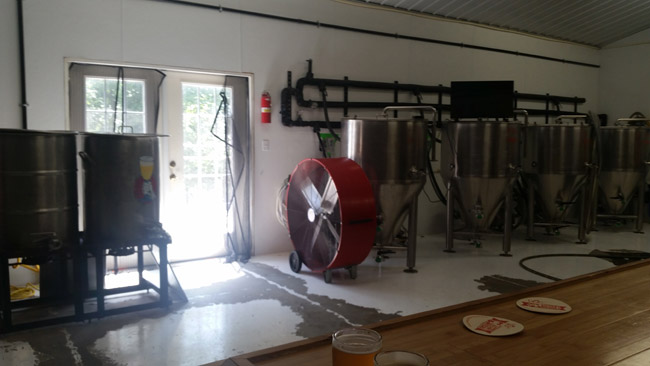 Alas, two bits of truth here. First, neither Scratch Brewing nor Carbondale Craft Beer, Makers of Little Egypt is located in Ava. Second, Little Egypt is moving to West Frankfurt. It was fun while it lasted.
Scratch has received an awful lot of attention (including from me, and in Brewing Local) for a brewery its size, but Little Egypt is the one with a Great American Beer Festival gold medal (for Little Egypt Hefeweizen in 2014). Like Scratch it is nano-size (pictured above), brewing two batches to fill a three-gallon fermentation tank. The brewery sold about 200 barrels of beer in 2015, a third more than Scratch.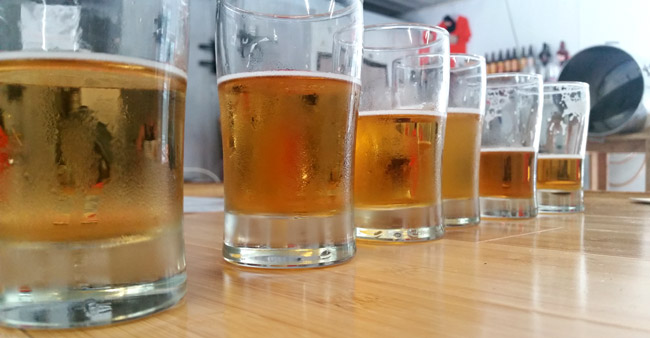 The tasting room and brewery share one not particularly large space. There is a contraption hanging from the ceiling that looks like a trapeze. It is used to hoist grain, but hunters have asked if they might bring in their deer to be gutted. After all, there is a floor drain directly below. That's the sort of story that makes the beer better, at least to us. Even though lined up the beers look alike, they are distinctive. Daria particularly liked the kolsch, the honey wheat beer was honey-rich, and the medal for the hefe was not an accident.
*****
In case you are considering a pub crawl before Little Egypt moves at the end of the year, Scratch is located seven miles outside of Ava and Little Egypt 11 miles from the town center. You take a different road to reach each one and they are 15 miles apart (unless you are a crow).