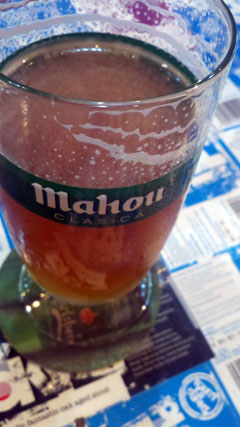 Starting from the bottom. The table is covered with labels from BrewDog Punk IPA bottles. There was a BrewDog beer on tap.
The coaster is from Carlsberg. Big brewery.
The glass is from Mahou, one of Spain's largest breweries. I tried one beer from Mahou, because you should do that sort of thing in Spain. Very sweet, no hops that you would notice.
The beer is Fort American Pale Ale from Fort Cerveza Artesanal, one of the "next generation" breweries in Barcelona.
We stumbled upon Cat Bar in the Old Town area our last day in Barcelona. We were looking for a Christmas tree ornament, not beer. Turns out this place has a pretty good following in the vegan community ("Vegan artisan beer bar and restaurant featuring 30+ Catalan craft beers") as well as beer folk.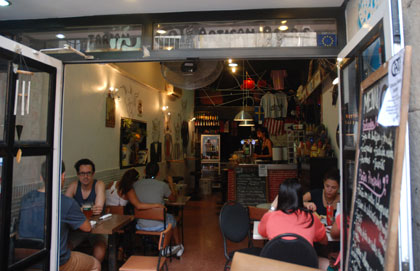 The owner, Ron ("Just Ron"), happened to be talking to the woman pouring beer about scheduling for the follow week. Very quickly he told me:
– Cat Bar opened in January of 2011 and business has improved at a constant rate.
– That the distributor who handled BrewDog beers had gone bankrupt, which was pretty disruptive.
– That breweries like Fort and Llúpols i Llevats (Glops beer) are a second wave. The first wave isn't 20 years old, but he said many drinkers find the beers, brewed mostly to mimic classic styles, somewhat pedestrian. Not every beer from the newcomers is all that good, he said, but they certainly are interesting.
I would have liked more bitterness from the Fort APA. A brochure on the bar said it has 20 bitterness units, although pretty obvious late hopping gives it a solid hop presence (Centennial – hmmm, good). OK, and little less caramel malt sweetness.
The day before in a liquor store a local had warned us away from buying Fort, because he said it wasn't nearly as good in the bottle as on draft. So there's work to be done. Saw beer from several American small breweries there as well. Including Great Divide (in this case not so) Fresh Hop Ale. Sitting nice and high, where the light could pound every day. Whoever ends up buying that vintage bottle isn't going to taste the same beer consumers did something like 10 months ago in Colorado.
But that's another story. Cat Bar, great vibe.