Before I stick my nose back into academic papers focused on terpenoids, sesquiterpenoids and preserving hop aroma and flavor . . . a few things I've been reading.
* The New York Times reports full-service gyms are losing members. "In the 70s, they came for community. Now they come in and disassociate themselves from everyone in the club. It's killing the health club," says a marketing consultant. A sign that "third places" revolve around community rather than design.
* Excellent observations (if "grim reading") in Tandleman's Beer Blog about dwindling beer sales and number of pubs in Great Britain.
Society is changing in ways we could never have predicted. The web, social networking, time shifting multi channel TV, more comfortable homes, price, health awareness, recession, job insecurity, generational attitude shifts and more, dictate that a pub will never again be on every street corner, bursting at the seams and the only place to go for an entertaining interlude.
And:
There's a mountain to climb. Nonetheless, the pub trade still refuses as a whole to face up to this and the fact that to attract customers and keep them, it has to be better. It has to offer a smile, a warm welcome (that just means a "hello" or a "thanks"), good surroundings, decent food and an experience that is attractive and competitive against other offerings. It has to offer good service and a wide range of beers that people actually want to drink, rather than the ones they can buy cheaply and sell dear.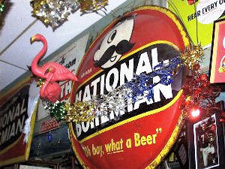 * Draft National Bohemian beer is returning to the Baltimore area. To the rest of the country this is like the return of PBR. For those of you thinking huh? . . . Natty Bo was a long time Baltimore fixture, with a history that pre-dates Prohibition. Carling bought the brewery in 1975, then Heileman acquired it, then Pabst. Today MillerCoors brews Natty Bo for Pabst.
Fact is that when we are next in Baltimore we'll likely be drinking something brewed in Maryland and more expensive than Natty Bo. However, while I can't tell you the last one of those better tasting beers I had when we last visited Charm City a while back I do remember where I was sitting when I last had a Natty Bo . . . almost 10 years ago.
We were in Nancho Mamas, one of the few places you could still find Natty Bo in bottles inn 2001 (and you drank it straight from bottle). Friends of ours took us there, because they understood we had to see a place where every available inch is covered with a picture of Elvis Presley or a photo from old Baltimore (mostly sports) or a piece National Bohemian memorabilia. These included signs large and small, a gallery of bottle caps on the wall at the front entrance, buckets hanging at the bar and more.
Lots of tourists, and lots of regulars (many with tourists in tow). These days reviews at Yelp mostly talk about the nachos and margaritas, but indicate in passing the decor remains intact. I hope the regulars are as well. Beer, communities, pubs (or bars) — they all make each other better. And a little Elvis on the side is OK.