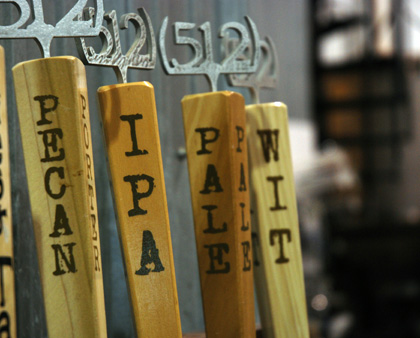 This not the official announcement for Session #49, because that will have to include broad definition of "regular" beer. Or not. But when The Session begins its fifth season in March each of the first three original hosts (that would be me, then Alan McLeod and Jay Brooks) will return to action in successive months. I can tell you right now that March 4 I'll expect contributors to blog about a single "regular" beer.
For now when writing about "regular" beer: a) I'll settle for Justice Potter Stewart's "I know it when I see it" standard and b) I'm going to quit putting quotation marks around regular.
Brewery founder Kevin Brand includes pecans when brewing (512) Pecan Porter (d'oh). So maybe you'd rather put the beer in the innovative category — like others you need a Cuisinart to make. Not me. I'd drink this beer, available only in 15.5-gallon kegs, regularly if I lived somewhere I could buy it. Thus, a regular beer.
Pecan Porter was the first seasonal at (512), released in the fall of 2008 not all that long after the brewery opened. Brand knew he wanted to brew a dark, bold beer. Pecans made their way into the recipe because he saw construction workers hanging out under and eating pecans from a tree in the industrial park where (512) is located. Central Texas, of course, is thick with pecans. That's why a new brewpub in Johnson City, west of Austin, is calling itself Pecan Street Brewing.
At first Brand and Nate Seale, who now does most of the brewing, roasted the pecans in their own ovens. Today Austinuts provides the roasted pecans, which Brand and Seale grind up in a Cuisinart ("My wife keeps asking when she'll get it back," Brand said) before tossing the mixture into the mash. Organic two-row, crystal, chocolate and black malts make up the rest of the grist and the wort is hopped with a single addition of Glacier.
The pecans add nutty, toasty flavors to the porter, with the black malt and restrained hops (30 bitterness units) nicely balancing crystal malt sweetness.
"It (pecan) is a deceiving flavor. People associate it with sweet, because usually it's in something like pralines or pie, but it's not," Brand said. Pecan Porter was an immediate hit, both because of its flavors and because it has an extra bit of Texas in it. "Most of the people who support us are in love with Austin and in love with Texas," he said.
So (512) made the porter — you guessed it — a regular beer.