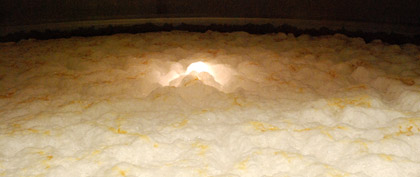 Geez, could I make it harder? Is it really fair to ask you where in the beer world this photo was taken? I am anyway.
Quite honestly, it won't be a slam dunk when I post a second picture with the answer.
But stick with me on this. There's a lesson, or maybe two, to be learned.
Rather than offering a clue this week, I'll suggest a second question you might find it easier to comment on. What's going on here?
Posted Oct. 18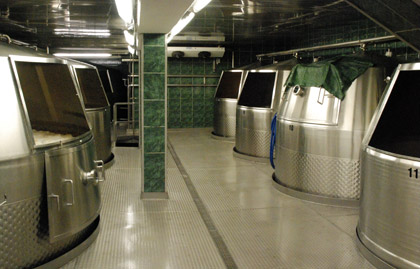 That's a helles fermentation at the top in one of these ultra-modern looking fermenters at Private Landbrauerei Schönram in the German village of Schönram near the Austrian border.
Yes, Schönram uses open fermentation for all its beers, which account for almost 95 percent of production (46,000 HL). The unique fermenters allow for open fermentation and make it easy to skim the yeast daily (brewmaster Eric Toft believes this makes for smoother beer). What makes them different is that they can be closed and cleaned easily, eliminating the excuse many larger breweries use when they modernize and install closed fermentation vessels.
Ron Pattinson hit on why I posted this photo (see his comment below) — that's a bottom fermenting yeast at work (and no even at high krausen). As he noted, open fermentation remains common in Bavaria, and not just for weiss beers. Common, but no universal.
There's a lot more different about Schönram, but that's a story that's going elsewhere.
The weekly reminder about this feature.