A post at Beerdata.org conjectures about why craft beer sales are up 11% so far this year.
Brendan Picha gives a lot of credit to imported beers, starting the with UK icon Samuel Smith. Yes it's true that dam was opened in this order:
– Michael Jackson wrote the World Guide to Beer.
– Charles Finkel read the World Guide and called Jackson in London to praise the book. They quickly became friends, and soon Finkel's company – Merchant du Vin – was importing beers Finkel had read about in the World Guide, including Samuel Smith. Imports were an inspiration for American brewers and an introduction to classic flavors for American drinkers.
Anyway, Picha then outlines what he summarizes this way: "This is a short snowball effect theory that I think may be responsible for craft's current marketplace presence and demand." Give it a read.
That got me thinking. The result is "10 Reasons Craft Beers Sales Are Hot." (Disclaimer: This is a list is not the top 10 – and order is random after the first two).
1. These beers have more flavor.
2. Michael Jackson. The reasons listed above are just a start. The next list should be 10 Ways Michael Jackson Saved The World From Bad Beer. He's shown here with Jeff Bagby and Tomme Arthur of Port Brewing/Lost Abbey.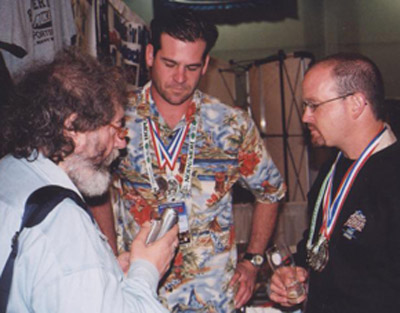 3. Hops. OK, zealously defending hops has been known to get me in trouble. It's just that innovative use of hops helped set American craft brewers apart from the start. (Before you send that e-mail, innovative use of hops does not mean using enough to take the chrome off the back of your pick-up truck. Firestone Walker innovative will do.)
4. Brewpubs. When craft sales were up 9% in 2005, brewpub sales grew less than 3%. That's not the point – they put the roots in grassroots, because they are still the place many people are introduced to flavorful beer. Some of the most innovative (there's that word again) beers, which literally inspired new styles, were and are first made in brewpubs.
5. Cult producers. When you look at the numbers, "accessible" beers that lots of people drink are driving growth. But extreme beers generate excitement.
6. The Internet. News travels quickly these days and the online communities are huge.
7. Importers. The sale of imports also remained strong in the first half of 2006, but IRI mostly measures beers sold in grocery stores – such at Heineken and Corona. I'm talking about the smaller importers, the ones who continue to find new and exciting beers (see Nos. 5 and 6).
8. What goes around comes around. A few months ago in England I had a wonderful 4% abv cask-conditioned bitter spiced with American Amarillo hops. Innovation is a two-way street. Some American brewer is going to taste a beer like that and say: "Hey, we can do that at home."
9. Great retailers. Meaning bars/taverns/pubs as well as stores (both independents and the likes of Whole Foods – just think about when Costco starts to offer beer that rivals its range of wines).
10. Niches are good. In the mid-90s megabrewers invested in smaller breweries and experimented with specialty styles. Interest that waned then seems to be returning, but no matter how good of beer they decide to make there are some things they will never choose to do. That leaves an opportunity for those willing to do a little bit more.
Consider what Vinnie Cilurzo of Russian River Brewing has to say about his beers that may spend a year aging in wood before they are ready to sell: "These beers reflect a slower pace of life. Americans are so into 'I want it all and I want it now.' That's why I don't think many brewers will get into aging. They aren't going to commit the time or the space."